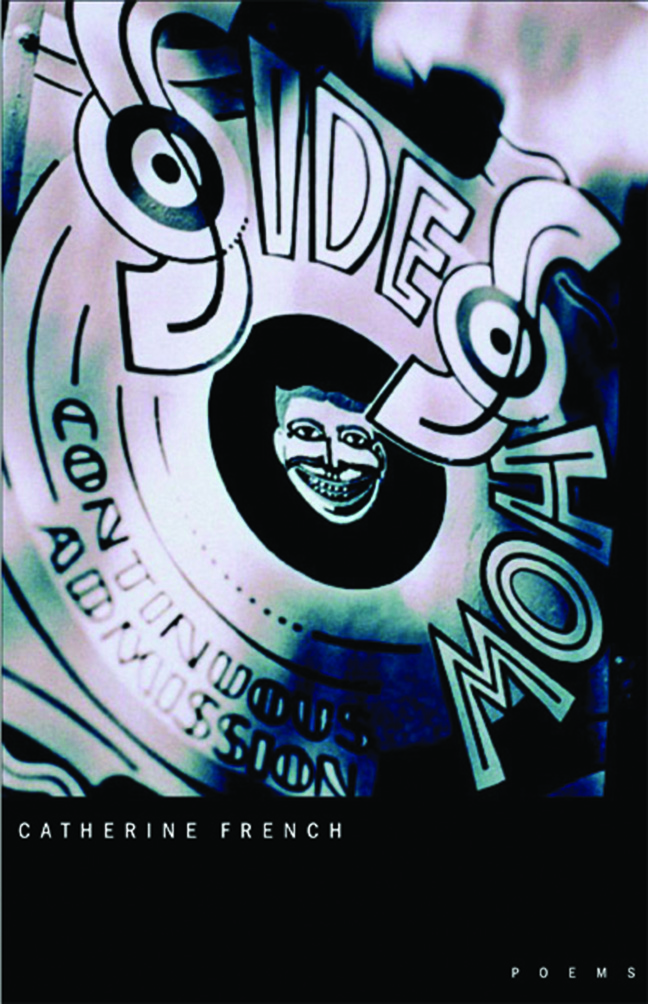 Side ShowPoems$12.00
Author:
Catherine French
Format: Paper
Pages: 80
ISBN: 9780874175127
Published Date: 2002
In her first full-length poetry collection, Catherine French reveals a curiosity about the complexities of the quotidian and a keen sensitivity to the strangeness and magic that lie within all our human experiences, from learning the shapes of the alphabet, realizing "how they failed in that attempt to join / the physical and abstract, how each sound / fell short of the world," to watching the death of a horse, its "beauty sent back / through the long funnel / to abstraction."
These are poems of rich imagery and profound psychological insight, of wry ironies and compelling truths. French is a master at turning abstract emotions and concepts into precisely realized images and actions, at finding within the metaphysical mysteries of the spiritual the small and painful human hungers that drive us all. Imaginative, powerful, poignant, and magical, these poems will surprise and delight their readers.
Author Bio
Catherine French was born and raised in the Central Valley of California and currently resides in Sacramento. Her poems have appeared in The Nation, The Iowa Review, Gettysburg Review and numerous other literary journals across the U.S. An earlier version of Side Show was awarded the James D. Phelan Award from the San Francisco Foundation for best manuscript in progress.
Reviews
"These are aware poems, like those creatures who stay awake all night while others sleep. Their syntax is alert, limber and full of delicious surprises." —Beckian Fritz Goldberg, author of Never Be the Horse
"If Cavafy had suffered some intervention of fate and been not Greek but American, then Side Show could have been his most brilliant volume of verse. These poems stand, and turn, and stand again, making the motion of poetic thought credible, almost familiar, but stunning." —Norman Dubie, author ofThe Mercy Seat