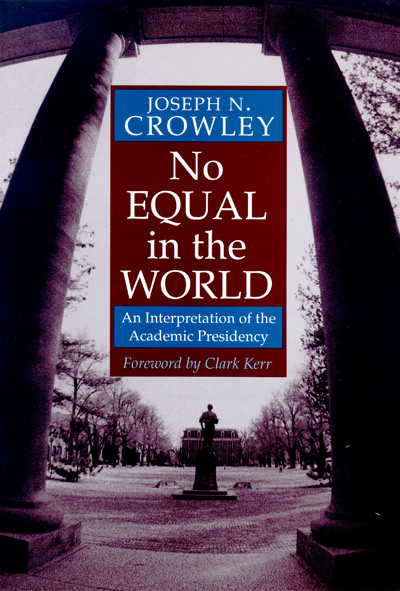 No Equal In The WorldAn Interpretation Of The Academic Presidency$24.95
Author:
Joseph N. Crowley
Foreword:
Clark Kerr
Format: Paper
Pages: 320
ISBN: 9780874173734
Published Date: 2016
No Equal in the World is a comprehensive study of the literature on the American academic presidency from the middle of the nineteenth century—when the first universities, as distinct from colleges, began to emerge—to the present. The book surveys widely divergent literature on the biographies of major presidents at crucial moments in the history of their institutions. The book affords an overview of the development of both the role of the university president and the public's perception of that role, and indicates where perception and reality diverge. At a time when university presidents must find their way through a minefield of increasingly heated debates over issues such as free speech, curriculum, faculty diversity, and the specter of "political correctness," Crowley's book provides a sense of history to those striving to understand the demands of the position. It is an invaluable resource for scholars.
 
Author Bio
Joseph N. Crowley was the president of the University of Nevada, Reno, from 1978 to 2001. His twenty-three years as president mark the longest single tenure of any of the university's chief executives. California State University, Fresno, and the University of Iowa have both presented Crowley with distinguished alumni awards, and he has also received five honorary degrees. He has continued to live in Reno, Nevada, since his retirement from education.
 
Reviews
"I can recommend this book to any present, past, or future college president and to all students of higher education. This volume belongs on any president's bookshelf and, perhaps, bedside." -- Journal of Higher Education
 
Journal of Higher Education