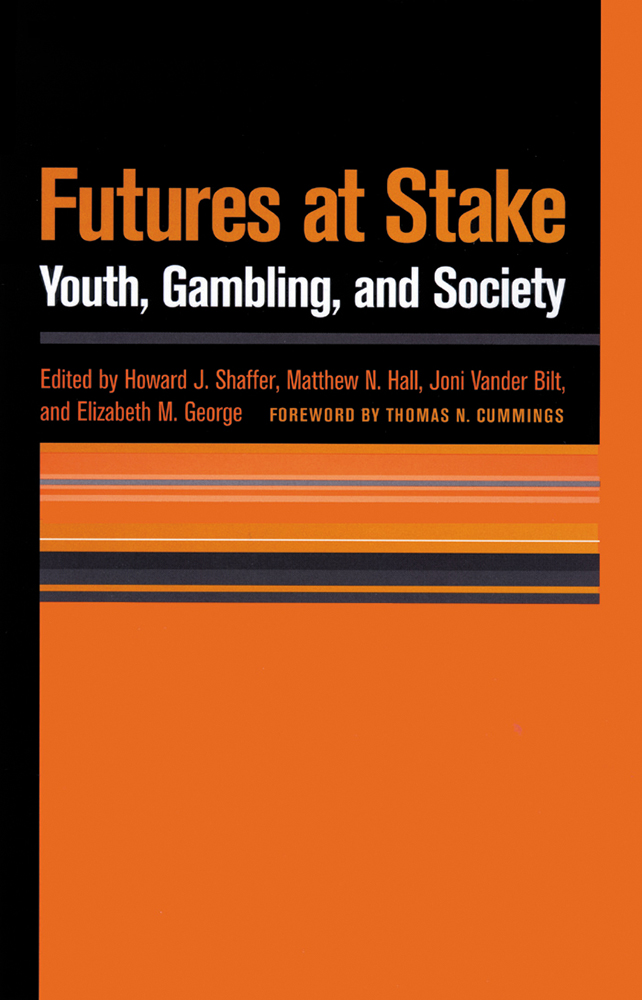 Futures At StakeYouth, Gambling, And Society$39.95
Author:
Howard J. Shaffer
Author:
Matthew N. Hall
Author:
Joni Vander Bilt
Foreword:
Thomas N. Cummings
Format: Cloth
Pages: 344
ISBN: 9780874173680
Published Date: 2003
The widespread legalization of gambling across the U.S. has produced concerns for serious social, economic, and health problems. For the first time in this country, an entire generation of young people has reached adulthood within a context of approval and endorsement of gambling as a source of entertainment and recreation. Compared with their adult counterparts, these young people have evidenced a higher level of gambling related problems. In Futures at Stake, specialists in psychology, medicine, law, public health, economics, casino management, psychiatry, and criminal justice examine this problem from the perspective of their various disciplines, producing an intelligent, thought-provoking, and valuable survey of what is fast becoming a leading social-health problem across the nation. Foreword by Thomas N. Cummings.
Author Bio
Edited by:
Howard J. Shaffer, Ph.D., is an associate professor at Harvard Medical School in the Division on Additions and is editor of Psychology of Addictive Behaviors.
Matthew Hall is a research associate in the Division on Addictions, Harvard Medical School.
Joni Vander Bilt is research associate at Western Psychiatric Institute and Clinic.
Elizabeth M. George is chief executive officer of the Minnesota-based American Academy of Health Care in Addictive Disorders, has served on the National Center for Responsible Gaming Advisory Board, and is associate editor for program features for the Journal of Gambling Studies.
Reviews
"Futures at Stake is the result of an extraordinary effort to bring together all the leading stakeholders involved in the complex issue of youth gambling. This book allows them to share their perspectives with a larger audience and help us better understand the problem. While they come from varying backgrounds, the contributors all share one thing in common: a dedication to the prevention of youth gambling. As a result, Futures at Stake is an important addition to the current literature on this subject." —Frank J. Fahrenkopf Jr., President and CEO, American Gaming Association
 
"Tribes in Minnesota and across the nation have been at the forefront of recognizing and dealing with the issues associated with problem gambling. Native Americans know all too well the pain and suffering caused by addiction. We were proud to contribute to the North American Think Tank on Youth Gambling, and we are delighted to see the findings of that event compiled here as a resource for others seeking solutions to the special problems of youth gambling." —Audrey Kohnen, treasurer, National Indian Gaming Association and vice chairman, Minnesota Indian Gaming Association
 
"A great strength of the book is the considerable breadth of topics included. In contrast to other well-known texts, the focus of the book is not solely confined to research or treatment issues. Instead, the topics range from detailed discussions of prevalence and correlates of youth gambling, to the legislative context of under-age gambling, theories of adolescent gambling, and the challenges that youth gambling poses to those working in industry, regulation, and education. . . . Futures at Stake is a very useful and informative introduction to the youth gambling area and I strongly recommend it to those wishing to develop knowledge in this field. I very much hope that the endeavors evidenced in this book are pursued further . . ." —Paul Delfabbro, International Gambling Studies, June 2004