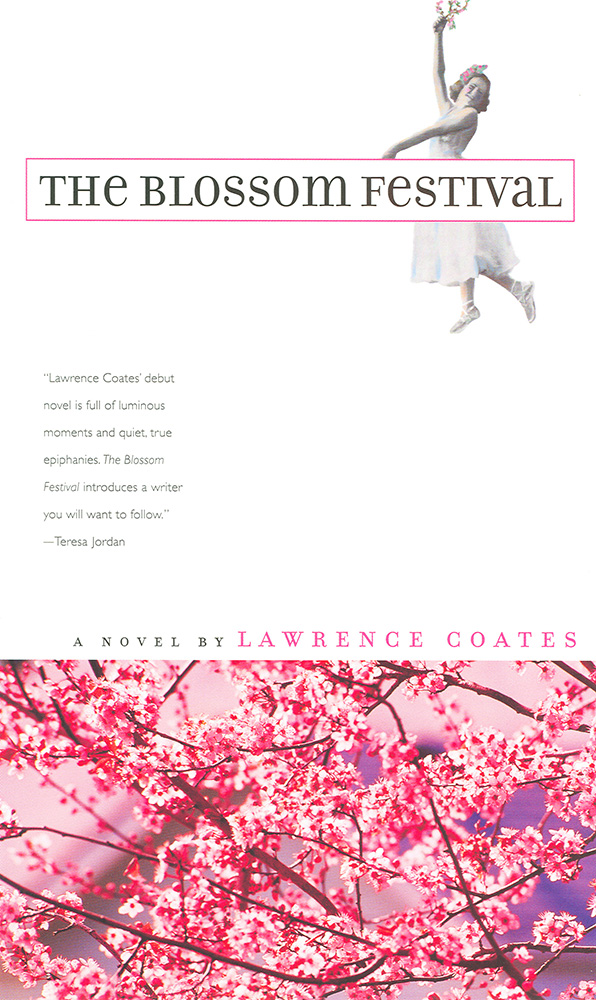 Blossom Festival(A Novel)$20.00
Author:
Lawrence Coates
Format: Paper
Pages: 360
ISBN: 9780874173376
Published Date: 1999
The Blossom Festival chronicles rural life in the Santa Clara Valley during the decades leading up to World War II. Against the lush backdrop of millions of fruit trees unfold the personal dramas of a fascinating cast of characters. This leisurely read explores the complex relationships between parents and children in the context of a rich California region bent on replacing agriculture with computer chips to become Silicon Valley. 
Author Bio
Lawrence Coates has worked as a Third Mate in the Merchant Marine, as a freelance journalist in Mexico, and as a high school teacher in Paris. Born in Berkeley, California, he served four years in the Coast Guard and another four in the Merchant Marine, spending time in the North Atlantic, the Hawaiian Island chain, and in the Arabian Sea during the Iranian Hostage Crisis. He holds a bachelor's degree from the University of California at Santa Cruz and gained fluency in Spanish while studying abroad in Barcelona, Spain. He taught in the Lycee Charlemagne in Paris after completing a master's degree at Berkeley, and went on to earn his doctorate at the University of Utah. He has received a National Endowment for the Arts fellowship in Fiction, and his work has appeared in The Chicago Tribune, The Missouri Review, Greensboro Review, and elsewhere.

His first novel, The Blossom Festival, won the Western States Book Award for Fiction, the Utah Book Award, and was selected for the Barnes and Noble Discover Great New Writers Program. His second novel, The Master of Monterey, was published in 2003. After several years at Southern Utah University, Coates currently teaches in the creative writing program at Bowling Green State University in Ohio. Click here to visit the author's website. 
Reviews
"California's Santa Clara Valley has become known as Silicon Valley, a transformation that debut novelist Coates implicitly contrasts by setting his tale in the orchard-strewn, pastoral community during the years between the two world wars. The plot meanders across decades and weaves many family sagas together. Harold Madison was abandoned by his father as a child, and he in turn abandons his girlfriend, Betsy Moreberg, when she becomes pregnant. Betsy is forced to give up her son, Peter, but 11 years later reunites with him. Peter's story soon meshes with that of classmates Albin and Olivia Roberts, and with Fumiko Yamamoto, the nisei daughter of an immigrant Japanese family. Their lives colorfully described, these Valley-dwellers cherish their cherry and pear orchards, bake scrumptious homemade pies and don't 'spare the rod' in child-rearing. The last few chapters depict the 'blossom festival' of the title, as townsfolk gather for the event that was observed annually between 1900 and 1941. This celebration of spring, featuring sack races, children's pageants, pseudo-freak shows, barbecued rabbit and kite-flying contests, is destined to be one of the last, though the characters don't know that. Especially poignant are the scenes tracing Fumiko and her family's attempts to assimilate, as readers foresee the WWII internment camps that await them. Meanwhile, Coates describes the bigotry Fumiko suffers as her friends try to sneak her into the festival and protect her from racist thugs. Two tender love stories develop . . . indicating the hope each spring brings. This quietly old-fashioned novel occasionally stumbles on its nostalgic reverie, but its essence is bittersweet: that even a paradisical land is marked by the human hopes and hatreds that reverberate long after the orchards are replaced by corporate parks." —Publishers Weekly 
"The locale and its corresponding history are well researched. Coates' writing is reminiscent of the naturalism style of well-known Chicago author James T. Farrell in his Studs Lonigan stories of the early 1930s. This true-to-life tale and its well-drawn characters linger long after the book has been read." —Foreword Magazine 
"An extraordinary first novel." —Contra Costa Times 
"Lawrence Coates' fondness for the orchard country of central California in the years before World War Two brings to mind John Steinbeck and William Saroyan. His novel emerges from that same world, the fertile fields, the crossroads culture, where immigrant families collide and intermingle as they strive to claim some piece of the legendary western terrain. The Blossom Festival is an old American story made new. Coates knows the soil of Santa Clara Valley, he knows its history, and his tale shines a haunting light on the world we all inhabit now." —James D. Houston 
"Lawrence Coates' debut novel is full of luminous moments and quiet, true epiphanies. The Blossom Festival introduces a writer you will want to follow." —Teresa Jordan 
"Lawrence Coates' The Blossom Festival is a poignant, between-World-Wars mapping of a more Edenic Santa Clara Valley in northern California when the mechanistic intrusions in the garden still whistled and honked of promise and progress, sang of youth and love and spring, harvest of family and festival." —Robert F. Gish