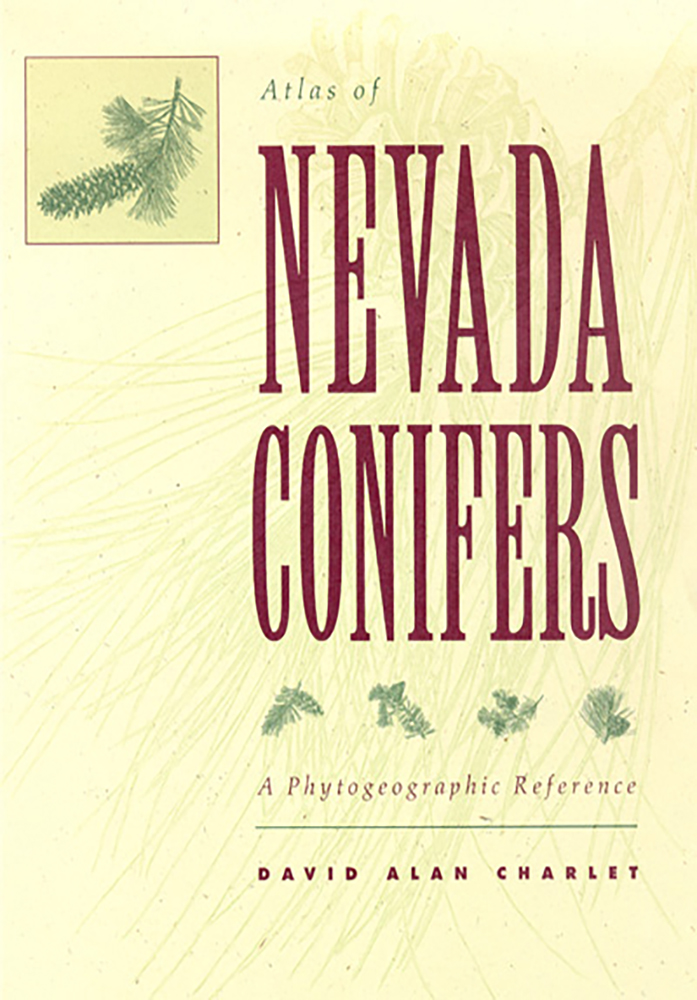 Atlas of Nevada ConifersA Phytogeographic Reference$35.00
Author:
David Alan Charlet
Format: Paper
Pages: 336
ISBN: 9780874172652
Published Date: 1996
Atlas of Nevada Conifers is a major scientific contribution to our understanding of the ecology of Nevada. It documents in great detail the distribution of all native conifer species in the state—critical information because of the primary ecological importance of conifers for all organisms and because of the lack of documentation of these distributions in the scientific literature before now. Charlet maps and documents the exact location of herbarium records for 1,600 individual trees. The data found in 23 tables and 22 range maps will serve as a primary reference for botanists, land managers, and conservation biologists for years to come.
Author Bio
David Charlet received his B.S. and M.S. in Biology and his Ph.D. in Ecology, Evolution, and Conservation Biology from the University of Nevada, Reno. He currently is a Professor at the Community College of Southern Nevada in the Las Vegas Valley where he teaches 10 biology and environmental science classes each year. David Charlet's research is acutely focused on the natural history of the Great Basin and Mojave Desert. Dr. Charlet has worked in more than 275 of Nevada's 314 named mountain ranges, and mapped and wrote a reference book on the conifers of Nevada. Results of some of his Nevada research were showcased in 2000 at UC Berkeley where he was invited to speak about this at the 50th anniversary of the University and Jepson Herbaria. Dr. Charlet mapped the vegetation of the Carson Range and much of the eastern Sierra Nevada under a National Performance Review grant sponsored by Vice President Gore's Committee on Reinventing Government. More recently, he has worked on several projects in Clark County Multi-Species Habitat Conservation Plan. In 2002, David gave a speaking tour in China where he was an invited speaker at an international symposium and also spoke at academic institutions in Shanghai and Beijing. In 2003, Dr. Charlet worked with the USGS and National Park Service in leading the field crews to map the vegetation and fuels of the greater Great Basin National Park ecosystems. During his sabbatical in 2004, David went on a botanical collecting expedition to Iran funded by the National Geographic Society. There, he collected plants with a team of US botanists led by the University of California, Berkeley in the vast Iranian desert and in the Alborz and Zagros Mountains. David also annotated conifers in the herbaria of Tehran and Esfahan Universities, and lectured at Tehran and Guilan Universities, and has begun research and education collaborations with Iranian botanists and forest ecologists. David relentlessly brings his research experience into his classroom lectures, and recently was the editor and lead author of a textbook used in introductory environmental science classes.
Reviews
"The Atlas of Nevada Conifers will be a definitive resource for botanists, land managers, and conservation biologists for decades to come. Author David Charlet's detailed maps and exhaustive records are like treasure maps to the many unexplored motherlodes of biodiversity waiting to be explored in the Great Basin [for anyone] with a strong sense of curiosity and Atlas in hand, whether professional scientist or amateur nature lover . . ." —David Lukas, Great Basin News
 
"He gives 20 excellent illustrations by Bridget Keimel, 22 dot-distribution maps plotting herbarium data and reported sightings, and detailed distributional data (location, elevation, collection, herbarium acronym) from 202 mountain ranges. . . . This exceptionally valuable effort extends ranges of most of the species in the state." —Rudolf Schmid, Taxon 46
 
"Though isolated conifer stands in Nevada have been the subject of active inquiry for the past 50 years, Dr. Charlet discovered many conifer locations that had never been recorded. This atlas documents his extensive field research to accurately identify the species and locations of the state's conifer stands, precisely maps the distribution of all the species, and significantly extends the known range of almost every species of pine, fir, spruce, juniper, and cedar in the state." —SciTech Book News, March 1997