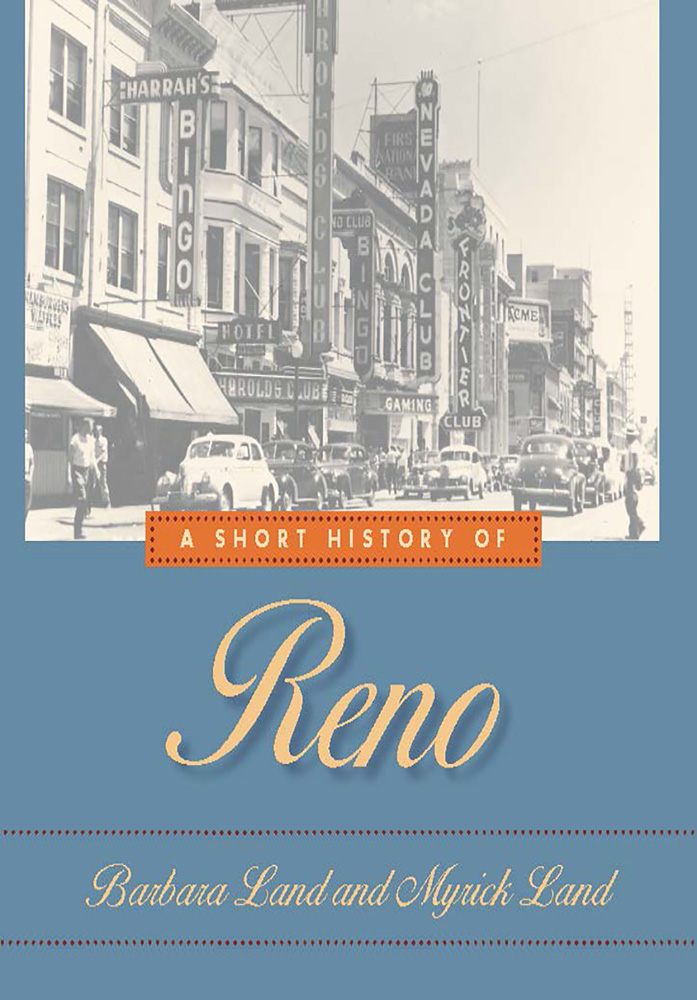 Short History Of Reno$18.95
Author:
Barbara Land
Author:
Myrick Land
Format: Paper
Pages: 136
ISBN: 9780874172621
Published Date: 1995
This is an entertaining and anecdotal treatment of Reno's history. Wonderfully illustrated with dozens of black & white photographs, the authors uncover some little known facts and enlighten readers about Reno's colorful past and the parade of larger-than-life characters who left their mark on the city, including: pathfinder John C. Frémont who named the river coursing down from Lake Tahoe after his Paiute guide, Truckee; railroad barons who plotted out the financial heart of Nevada; gambling kings who ran strings of prostitutes and laundered money for gangsters like Pretty Boy Floyd and John Dillinger; the celebrities who made Reno a divorce mecca; the carnival barker named Pappy Smith who invented Harrold Club; bingo man Bill Harrah who made Nevada the entertainment capital of the world.
Author Bio
Barbara Land earned a B.A. from the University of Miami and a M.A. from Columbia University. She worked as a reporter for the Miami Herald from 1940-1947, then moved to New York City to work as a reporter for Life magazine in 1948.  A year later she began working in advertising for Cunningham & Walsh, Inc., before becoming a fashion reporter for the New York Times in 1955. She has written nonfiction books for children and adults. Land was inducted into the Nevada Writer's Hall of Fame in 1996 along with her husband and literary collaborator Myrick Land, who died in 1998. She lives in Reno.

Myrick Land (1922-1998) served in the Army Air Corps during World War II, then graduated from the University of California at Los Angeles in 1945. He received a master's degree from Columbia University in 1946.  During the 1960s and early '70s, he was senior editor and assistant managing editor of Look magazine in New York.  Land came to Reno in 1976 as an assistant journalism professor in the Reynolds School of Journalism at the University of Nevada, Reno retiring in 1993.  He was inducted into the Nevada Writer's Hall of Fame in 1996, along with his wife and literary collaborator, Barbara Land.
Reviews
"A Short History of Reno is the liveliest history of 'The Biggest Little City in the World' that you're likely to read…I did not realize how rich my own Reno was until I read this book."
—Robert Laxalt
"Barbara and Myrick Land introduce us to a parade of colorful rascals, scoundrels, and scalawags—pioneers, dreamers, and visionaries, most of whom fit into several of these categories simultaneously."
—Tad Dunbar, News Anchor, KOLO-TV