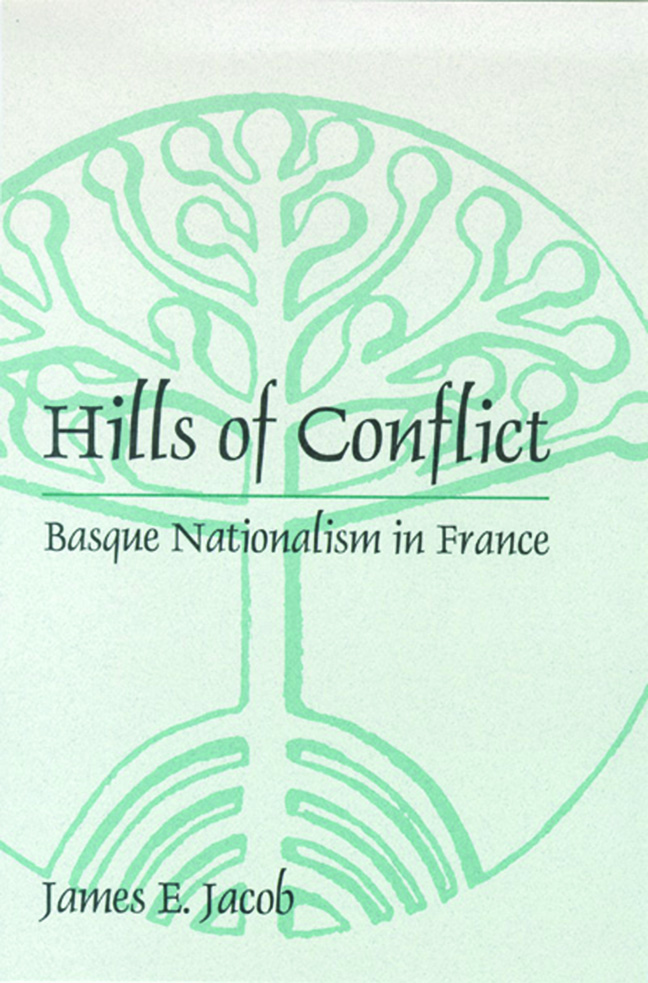 Hills Of ConflictBasque Nationalism In France$65.00
Author:
James E. Jacob
Format: Cloth
Pages: 568
ISBN: 9780874172201
Published Date: 1994
This scholarly work provides the first detailed analysis in English of the history of Basque nationalism in France from the Ancient Regime to the present day. The Basques are descended from of the original indigenous tribes of Europe, and their homeland was defined prior to the creation of the modern state system and its borders. This book examines the relationship between the Basques and the growing encroachment of the French state. Using interviews, personal letters, diaries, and unpublished archives, Jacob charts the evolution of Basque political resistance—localism, provincialism, clericalism, regionalism, and ethnic nationalism—and shows how the Basques have challenged the dominant ideology at each juncture of French history. In the years following World War II, this resistance gave rise to the expression of Basque nationalism and, later, terrorism.
Author Bio
James E. Jacob is Professor of Political Science and International Relations, and former Dean of the College of Behavioral and Social Sciences at California State University, Chico. He is a graduate of the University of California at Berkeley and received his PhD in Government from Cornell University. He has lived in France for more than three years, including study at the Institute of Political Studies of the University of Bordeaux, and is a graduate of the Management Development Program at Harvard University. Dr. Jacob is the author of numerous works in the area of ethnic and language conflict and his current research concerns questions of European Terrorism; The Psychology of Terrorism; How Terrorism Ends; Middle Eastern Terrorism; French Politics and Society; and Problems in Cross-Cultural Communications. Dr. Jacob has been a consultant for the Department of Defense for twenty-eight years.
Reviews
"James Jacob's book, Hills of Conflict, fills an enormous void in the abundant literature of contemporary ethnic nationalist movements turned violent. For years, scholars, policy makers, and others interested in ethnic struggles in industrialized societies have been hampered by the scarcity and inaccessibility of information about one of Europe's most significant cases: The Basques of France. No longer is this the case. Professor Jacob's book not only meticulously records the historical development of French Basque nationalism, but places it in the context of armed struggle for ethnic goals as well." —Robert P. Clark, Terrorism and Political Violence, Spring 1997
"Without question, Professor Jacob contributes importantly to our understanding of the French Basques." —Patrick Ireland, Nationalism & Ethnic Politics, Winter 1995
 
"Hills of Conflict's depth of scholarship makes it an invaluable reference work that lays the foundation for future inquiries into an under-studied case of nationalist political mobilization." —Susan M. DiGiacomo,Canadian Review of Studies in Nationalism, 2000