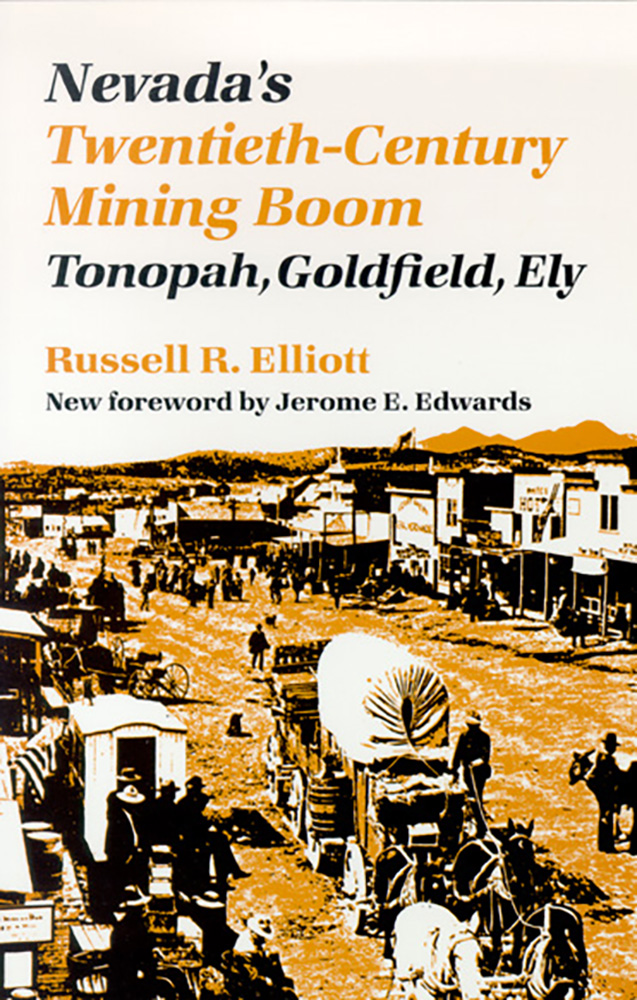 Nevada's Twentieth-Century Mining BoomTonopah, Goldfield, Ely$21.95
Author:
Russell R. Elliott
Format: Paper
Pages: 360
ISBN: 9780874171334
Published Date: 1966
Twenty years after the decline of the magnificent Comstock Lode, Nevada's prosperity and population had diminished to such a degree that some popular articles questioned whether to deprive Nevada of her statehood. Then in the spring of 1900, a miner discovered silver in south-central Nevada. This casual find precipitated a spectacular latter-day mining boom that, among other things, helped to restore prosperity.
With its wealth of little-known historical data, Nevada's Twentieth-Century Mining Boom chronicles the classic pattern of gold and silver rushes and emphasizes the differences between Nevada's two boom periods, pointing to the stability of the second bonanza. The author also details the entrance of radical labor into the new camps and the violent strikes that followed at Goldfield, McGill, and Tonopah. This labor strife had a significant impact on Nevada mining for many years.  
The first in-depth study of Nevada's latter-day boom period, this informative book gives balance to the history of mining in Nevada. Foreword by Jerome Edwards.
Author Bio
Russell Elliott is Emeritus Professor of History at the University of Nevada, Reno. Elliot has authored several books on Nevada history and politics. He was inducted into the Nevada Writers Hall of Fame in 1998.
Reviews
"Rarely has anyone given us a better insight into life in company towns than is offered here."
—
Pacific-Northwest Quarterly
"A significant contribution to the historical literature of the American West, as well as to that of Nevada."
—
Arizona and the West
"What makes Mining Boom unique is not the historical accuracy of the piece, an Elliot trademark, but that he was able to personalize the material, particularly the coverage of White Pine, and keep the era of relatively current history moving. . . . Now that the copper industry that dominated White Pine for most of the century and the gold bonanzas that brought life to Tonopah and Goldfield are just chapters in Nevada's past, Elliott's work stands as a more valid historical epic than ever."
—Ely Daily Times