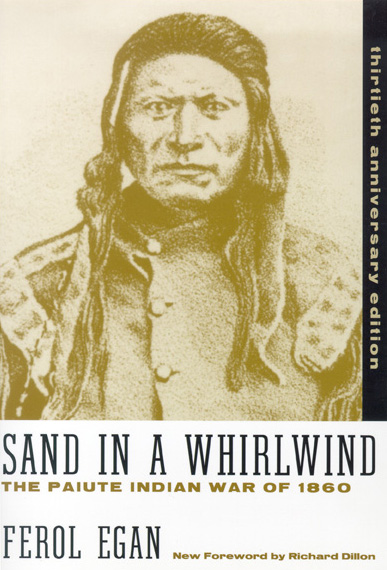 Sand In A Whirlwind, 30Th Anniversary EditionThe Paiute Indian War Of 1860$26.95
Author:
Ferol Egan
Foreword:
Richard Dillon
Format: Paper
Pages: 360
ISBN: 9780874170979
Published Date: 1985
Sand in a Whirlwind is a dramatic account of the events surrounding hostilities between settlers and Pyramid Paiutes in the spring of 1860. Thirty years after its publication Ferol Egan's now classic tale continues to enlighten and engage readers.
Author Bio
As a native Californian from Gold Rush country, 
Ferol Egan
 developed a love for the American West at an early age. A writer, retired teacher, and historian, Egan is the author of six books including 
Frémont: Explorer for a Restless Nation
, for which he won the Gold Medal for nonfiction from the Commonwealth Club of California. He received the Silver Medal for 
Sand in a Whirlwind
 and the California Medal for 
The El Dorado Trail
. He now resides in Berkeley, California.
Reviews
"In this excellently researched and beautifully written book, Ferol Egan has been able to successfully do a very difficult thing—combine reliable historical fact with his own philosophy and sympathy for the Indians. . . . This is a fine example of a brilliant writer taking a historical event and, by vivid description of the climate and geography and by an imaginative but realistic characterization of the leaders of both the Indians and the whites, giving the historical event new meaning and significance." —Pacific Historian
Pacific Historian
"Their tragic story is vividly told with perspective, awareness, sympathy, balance, and honesty. Whether describing nature, major characters, or action, Egan authoritatively conveys judgment without being hypercritical, sympathy without being biased, and drama without being histrionic. Making the difficult seem facile and intertwining the intricacies of a complex war in a masterful fashion, he presents a brilliant examination of both sides of a neglected chapter in the history of the white conquest of the Indians." —Library Journal
Library Journal
"Egan created a novel based on historical facts, then strengthened the fiber with lifelike fiction. He succeeded in weaving his story on a balance wheel of good and bad to place the Pyramid Paiutes in a stronger, more peaceful light. One century too late." —Jack Fleming, Ely Daily Times
Ely Daily Times
"Sand in a Whirlwind is a tragic story, yet told with sympathy, vividness and honesty. This is Nevada history and if you have not read this book, I urge you to do so. If you have read it, I urge you to reread it." —Mary Crawford, Nevada State Museum Newsletter
Nevada State Museum Newsletter