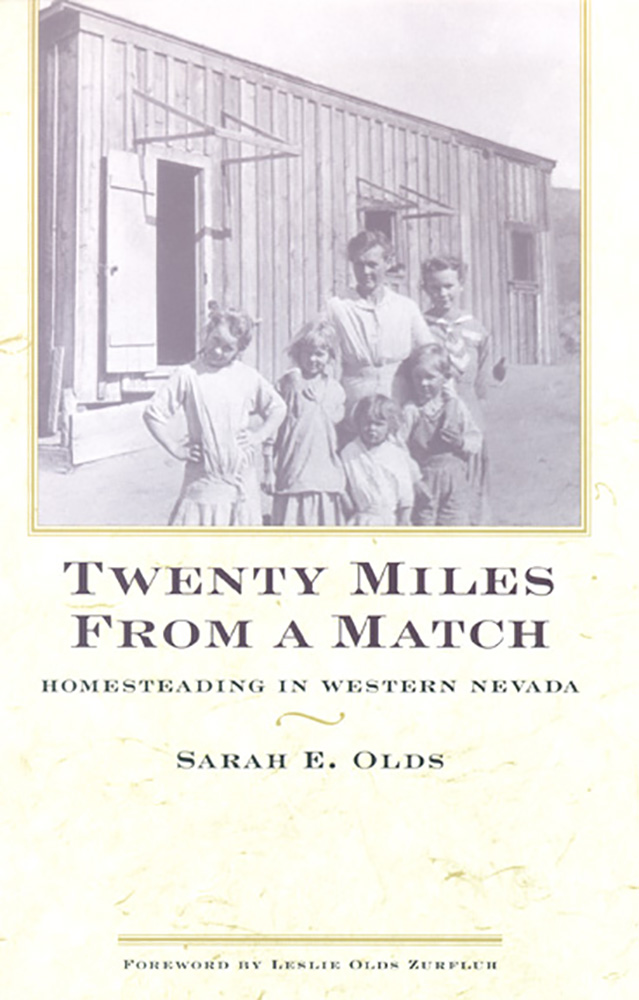 Twenty Miles From A MatchHomesteading In Western Nevada$16.95
Author:
Sarah E. Olds
Format: Paper
Pages: 200
ISBN: 9780874170528
Published Date: 1978
Twenty Miles From a Match, originally published in 1978, is the autobiography of an indomitable woman and her family's twenty years of adventures and misadventures in a desert wilderness. In 1908, a venturesome woman named Sarah Olds packed up her brood and went homesteading in the deserts north of Reno, west of Sutcliffe on Pyramid Lake. Her ailing husband said, welcoming her to their new home, "There, old lady. There's your home, and it's damn near in the heart of Egypt." Olds tells of the hardships, frustrations, poverty, and other tribulations her family suffered from shortly after the turn of the century until well into the Great Depression. Through it all, however, runs a thread of humor, cheerfulness, and the ability to laugh at adversity. The foreword is by her daughter, Leslie Olds Zurfluh, the fourth of Sarah and A. J. Olds's six children.
Author Bio
Sarah Olds (1875-1963) was born in Iowa and followed her siblings out west after the death of her parents to make a living as a dressmaker. Shortly after meeting her husband and starting a family, the Olds clan moved to Nevada from California. They established a homestead between Reno and Pyramid Lake.
Reviews
"Twenty Miles From a Match is almost required reading for anyone interested in reviewing the homesteading days in Nevada because of either nostalgia, or to learn how our pioneers coped."—Sparks Tribune

"This is the story of the only woman living in the wilderness of northwest Nevada in 1910. It is a down-to-earth story that tells about the kindness of neighboring ranch-hands, the use of old home remedies for illness, and how a family survived during terrible winters when food was in short supply."—Old West
"The character of Sarah Olds sets this story apart. With A.J. often bedridden, Sarah was on her own as much as not. It was usually she who had to make the dangerous journeys into Reno—a day's wagon ride over washboard roads—for necessary supplies. While she did her endless chores, she was chased by storms, blistered by heat, threatened by wild creatures great and small, let down by friends, and discouraged by local officials time and again. But she never failed her family." —Reno Evening Gazette