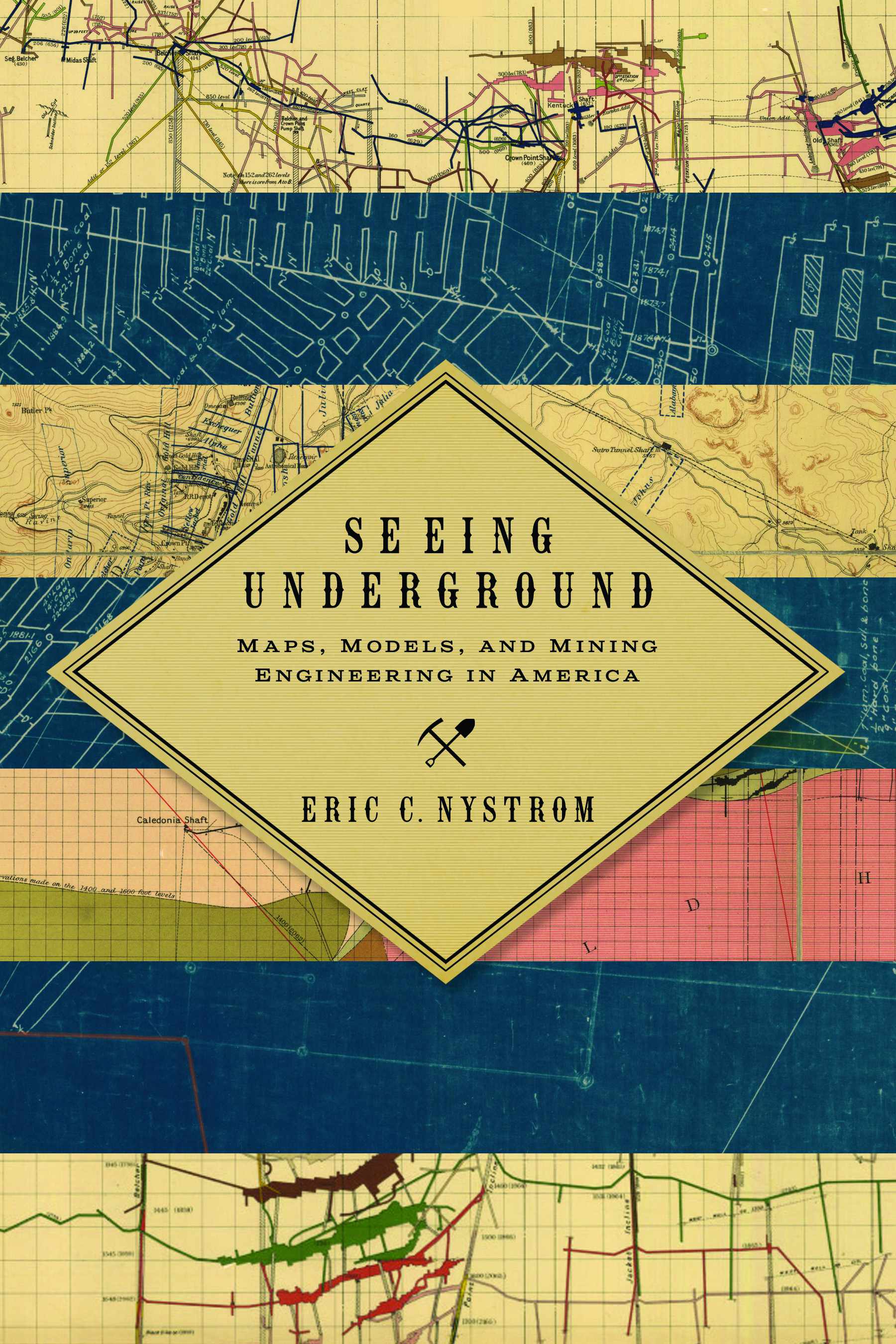 Seeing UndergroundMaps, Models, and Mining Engineering in America$29.95
Author:
Eric C. Nystrom
Format: Paper
Pages: 320
ISBN: 9780874170078
Published Date: 2016
Digging mineral wealth from the ground dates to prehistoric times, and Europeans pursued mining in the Americas from the earliest colonial days. Prior to the Civil War, little mining was deep enough to require maps. However, the major finds of the mid-nineteenth century, such as the Comstock Lode, were vastly larger than any before in America. In Seeing Underground, Nystrom argues that, as industrial mining came of age in the United States, the development of maps and models gave power to a new visual culture and allowed mining engineers to advance their profession, gaining authority over mining operations from the miners themselves.

Starting in the late nineteenth century, mining engineers developed a new set of practices, artifacts, and discourses to visualize complex, pitch-dark three-dimensional spaces. These maps and models became necessary tools in creating and controlling those spaces. They made mining more understandable, predictable, and profitable. Nystrom shows that this new visual culture was crucial to specific developments in American mining, such as implementing new safety regulations after the Avondale, Pennsylvania fire of 1869 killed 110 men and boys; understanding complex geology, as in the rich ores of Butte, Montana; and settling high-stakes litigation, such as the Tonopah, Nevada, Jim Butler v. West End lawsuit, which reached the US Supreme Court.

Nystrom demonstrates that these neglected artifacts of the nineteenth and early twentieth centuries have much to teach us today. The development of a visual culture helped create a new professional class of mining engineers and changed how mining was done. Seeing Undergound is the winner of the 2015 Mining History Association's Clark Spence Award for the best book on mining history.
Author Bio
Eric C. Nystrom is a historian in the College of Science and Letters at Arizona State University. He is the editor of Mining History News and the author of "Underground Photography and American Mining before 1920," which won the 2010 John Townley Award for best journal article from the Mining History Association.
Reviews
"Seeing Underground is a gem of a book with an engaging, captivating angle: How do you visualize and imagine space where there is no light? Add to this Eric C. Nystrom's easy, jargon-free writing style and the mind of the nineteenth century mining engineer becomes a celebration of cartographic genius." —Western Historical Quarterly
Western Historical Quarterly
"Seeing Underground is a well-argued, tightly structured study that goes beyond mining historians' usual use of the visual culture of mine maps and models as evidence to explore how this visual culture was also an actor, effecting change, not merely reflecting it. . . his (Nystrom's) work is especially valuable for linking the rise of visual culture and the rise of professions and showing how visual culture was used as a tool to gain power. Nystrom reinforces the importance of visual culture in the second half of the nineteenth century." —The Journal of American History
The Journal of American History
"The book is well written, with extensive endnotes (42 pages), a bibliography (20 pages), and suitable illustrations. Highly recommended."—Choice
Choice
"Seeing Underground is an excellent addition to the literature on mining history for historians, engineers, and geologists." —Pacific Historical Review
 
Pacific Historical Review
"Seeing Underground makes a significant contribution to the history of mining and mining engineering [and] is a solid piece of scholarship on a little-studied subject." —Technology and Culture
Technology and Culture
"Eric C. Nystrom has written a history of these underground maps, of their meanings, how they were drawn, how engineers and lawyers made use of them, and how historians can make use of them. In doing so he has opened a new world of visual culture and archival sources that scholars have largely dismissed. We owe him a scholarly debt for showing their value." —American Historical Review
 
American Historical Review