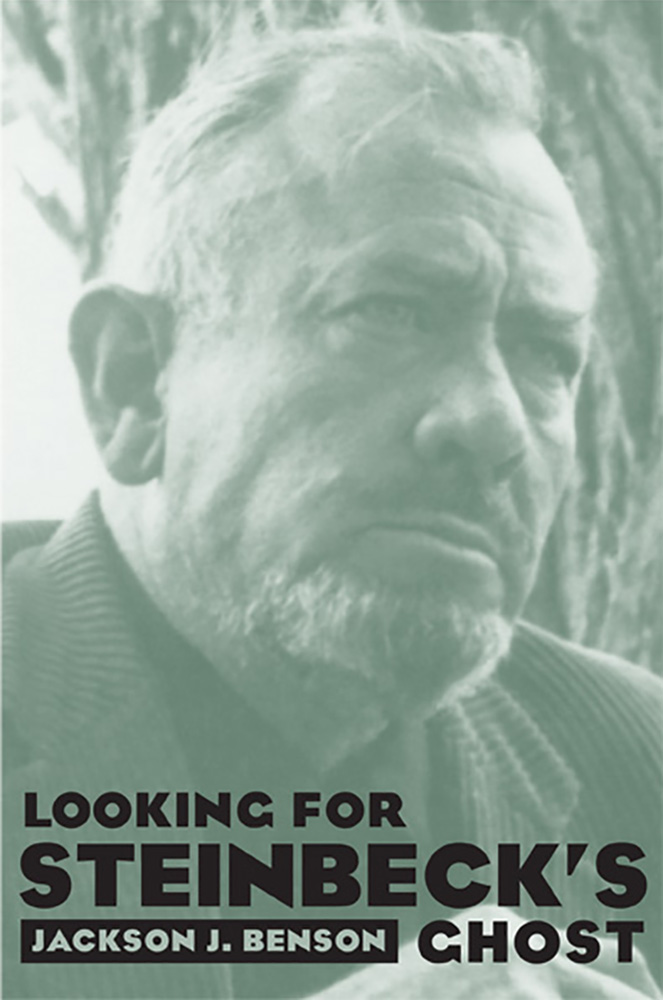 Looking For Steinbeck'S Ghost$21.95
Author:
Jackson J. Benson
Format: Paper
Pages: 248
ISBN: 9780874174977
Published Date: 2002
In 1968, Jackson J. Benson, then a naïve young literature professor, set out to write a critical appraisal of John Steinbeck, a writer who Benson thought was greatly undervalued by the scholarly establishment. To Benson's amazement, he shortly found his project turning into an authorized biography. Looking for Steinbeck's Ghost is Benson's engaging account of his experiences over the fifteen years he devoted to writing that biography. On one level, the book is a rich collection of anecdotes, character sketches, and memories of Steinbeck and the people with whom he shared his life—wives and children, siblings, friends. Benson interviewed scores of people who knew Steinbeck and read thousands of letters and other primary sources in the course of his research, and the fruits of this diligence offer rich insights into the personalities of Steinbeck—a fiercely private man—and of his closest associates. There is important new information here about Steinbeck's career, the inspiration for some of his characters and plot lines, and some of the people who, in various ways, influenced his writing and his personal life. On another level, Looking for Steinbeck's Ghost is a fascinating account of the biographer's task, with all its triumphs large and small and its numerous pitfalls and frustrations. We follow Benson as he struggles to master the skills of the biographer: locating sources of information, especially tracking down informants; learning to conduct interviews—and then to assess the veracity of his informants' memories; coping with the myriad frustrations inherent in the technologies of tape recording and photocopying; recognizing the pitfalls hidden in his own emotional biases and his tendency to identify with his subject; sifting through all the contradictions and prejudices, favorable and unfavorable, in his sources to find out just who John Steinbeck was. As such, Looking for Steinbeck's Ghost is a lively and completely engrossing case study of the biographer's demanding craft. First published in 1988 to enthusiastic reviews, and long out of print, Looking for Steinbeck's Ghost is available again in this new paperback edition.
Author Bio
Jackson J. Benson was professor of Enlgish and comparative literature at San Diego State University until his retirement in 1997. He is the author of twelve books on modern American literature and currently divides his time between Las Mesa, California, and a cabin in the northern Sierra Nevada.
Reviews
"The story of Jackson Benson's labors is one of those great rarities of the academic world: a scholarly book one can actually enjoy reading in bed. Looking for Steinbeck's Ghost has all the unpretentious charm and candor of Richard Altick's 1950 classic accounts of literary detective work: The Scholar Adventurers. Like Altick's book, Benson's should be required reading, both for delight and instruction . . ." —Donald V. Coers, The Texas Review, Fall-Winter 1989
"In this intimate, first-person account, Benson shows all the requisite skills of a novelist. Part adventure story, part mystery, part comedy of errors—Ghost is hard to put down." —Western American Literature
". . . it offers instructive commentary on the pitfalls of the biographer's craft, as the author interviews the novelist's ex-wives, digs for lost correspondence, evaluates evidence and tracks down material on the migrant worker who supplied Steinbeck with much of his information for The Grapes of Wrath. A professor of English at San Diego State University, Benson is sometimes acerbic in recounting his dealings with rival biographers, publishing lawyers and copy editors. He notes that Steinbeck preached ecology and condemned a false sense of progress as early as the mid-1930s, but disagrees with critics who feel Steinbeck's fiction declined after the populist The Grapes of Wrath, arguing that they unfairly want his novels to fit their own left-leaning political scheme." —Publishers Weekly
"For any reader remotely interested in the trials and tribulations associated with writing . . . a biography, this book is a must." —Mike Nobles, Tulsa World, May 26, 2002
"Benson's account is not only a fascinating glimpse of the art of biography but also the simpler story of the chain of accidents that can cause a person to commit fifteen years of his life, albeit unwittingly at first, to a single and often frustrating scholarly project." —John Ditsky, University of Windsor Review, 1989